Details of DVD What Our Viewers Have to Say
Quotes from the DVD Editorial Reviews

Now Available! Telling Stories: The Comic Book Creators DVD
Edition:

List: $24.95

Order Now
We accept PayPal, Check, or Money Order
| | |
| --- | --- |
| How did you hear about this DVD? | |
| Additional Details | |
If you do not have access to PayPal, you can send check or money order for $24.95 ea. + S&H (see table below) and your shipping address to:
Hero Video Productions™

921 Cheyenne Trail

Hewitt, TX 76643
Note: TX residents add 8 1/4% sales tax. Checks must clear your financial institution prior to processing your order.
| | |
| --- | --- |
| $0.01 - $29.99 USD | |
| $30.00 - $49.99 USD | |
| $50.00 - $74.99 USD | |
| $75.00 - $99.99 USD | |
| $100.00 USD - | |
International S&H rates will vary. We'll be happy to provide you an estimated shipping cost.
*United Kingdom & Canada, S&H is $4.95 for the first DVD, and $2.95 for each additional DVD.
Additional Services (price varies, please contact us):
| | |
| --- | --- |
| | Gift Wrap / Gift Card |
| | Express Delivery |
| | Ship to Alternate Address |

Details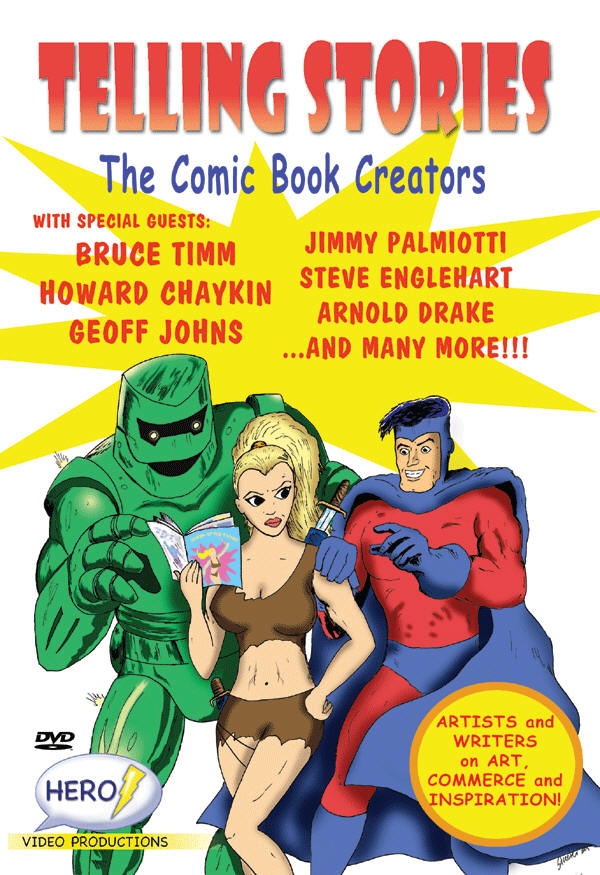 (c) 2005 Cover art copyright John Streeter

Chapters on the DVD
| | |
| --- | --- |
| | Why comics? |
| | Art and Commerce |
| | The Process |
| | The Characters |
| | Inspiration |
| | Legacy |
| | Hopes |

Quotes from Telling Stories: The Comic Book Creators
| | |
| --- | --- |
| | "There's no logical reason that costumed superheroes should appeal to me, but they just do." Bruce Timm |
| | "Having two older brothers in the house, there were always comic books and Playboys all around the house. I couldn't get a job at Playboy, thus comic books have become my life." Jimmy Palmiotti |
| | "I always have an agenda, because it's who I am." Howard Chaykin |
| | "It's really the character in the middle then I build the stuff around it." Steve Englehart |
| | "When you add words to those pictures, you have the perfect method of communication, and that's what comics are." Trina Robbins |
| | "Every year now, we're going to see people doing more complicated and far out things with the combination of pencil and typewriter." Arnold Drake |
| | "I see my job as making people look forward to something." Geoff Johns |
| | "No, I do not try to think about the audience while I'm working. It's crowded enough during the creative process with all the voices in my head." Adam Hughes |
| | "Stories that don't emotionally connect aren't worth anybody's time." Greg Rucka |
| | "I just want to have enough success that I can do the next book. That's all I want." Jimmy Palmiotti |
| | "For me, that blank page starts with structure and outrage." Howard Chaykin |
| | "I try to put everything I can into the story. That's the deal." Steve Englehart |
| | More coming soon. |
Chaykin's comic art
Englehart's Batman Rucka's Whiteout

Trivia
| | |
| --- | --- |
| | Coming Soon |

Editorial Reviews
Hero Video Productions presents a 2-hour DVD packed with interviews with some of the greatest names in comics! Bruce Timm, Greg Rucka, Jimmy Palmiotti, Howard Chaykin, Geoff Johns, Steve Englehart, Trina Robbins, Adam Hughes, and Arnold Drake discuss their work in intimate interviews that reveal the craft and inspiration behind their greatest work. These superstars talk in-depth about their experiences in the industry and how they approach their art. The answers are humorous, insightful, reflective, and instructive, and anyone interested in the creative life will find inspiration in this video. As a special bonus, viewers get to visit Englehart in his studio as he scripts the long-awaited follow-up to his classic run on "Batman". This exciting DVD is from the team behind the highly acclaimed "Terry Moore: Paradise Found" DVD. A must have for any comic fan's shelf!

DVD Buzz, Wizard Magazine, September 2005
"Want to hear the inside scoop on the industry from the creators themselves? Well, this is the DVD for you. Steve Englehart, Geoff Johns, Bruce Timm, Trina Robbins, Adam Hughes, Arnold Drake and Howard Chaykin chat it up about their careers, the characters they've worked on, and the future of comics. (Available Now)"
Hero Video Productions DVD Release Panel at Comic-Con, Pulse News, July 2005
Telling Stories: The Comic Book Creators--Off to See the Wizards, ToonZone, July 2005
"This DVD from Hero Video Productions provides a great number of interesting thoughts..."

"Hero Video has organized this disc into eight chapters divided by topic, meaning a viewer can easily view them in any order or across multiple viewing sessions."

"With nine creators involved, Hero Video is to be thanked immensely for identifying the interview subjects throughout the entire disc, easily solving a problem that plagues many documentary films that interview many unfamiliar subjects."

Reviews, DVD Talk, July 2005
"The greatest strength of Telling Stories is its information. All the people interviewed are well-versed in comic book history and eager to discuss their craft. Jurls and editor Damon Crump try to shape a natural arc out of the subjects broached, linking together why people got into the industry, what has inspired them to keep going, relationships with the audience, and the challenges inherent in working on established properties versus one's own, etc., and ending Telling Stories with chapters where the creators contemplate their legacy and the future of the art form. A lot of good stories rise up in the mix."

"If you have a passing interest in comics or are a fan of any of the creative folks involved, there is a lot being talked about in Telling Stories: The Comic Book Creators that you may not have heard before. Plus, all of the writers and artists taking part are passionate about what they do, and so when they talk, it's hard not to listen."

"I liked the informative content of Telling Stories: The Comic Book Creators."

"If you like comic books or any of these creators strike your fancy, give Telling Stories a spin."

Reviews, Jazma Online, June 2005
"If you don't have time to hit the conventions and talk with the creators, then pick up Hero Video Productions - Telling Stories - The Comic Book Creators DVD, you will feel like you are right there interviewing them!"

"A real tell-all and a great eye-opener!"

Customer Reviews

Visit official web sites
| | |
| --- | --- |
| | Howard Chaykin |
| | Arnold Drake |
| | Steve Englehart |
| | Adam Hughes |
| | Geoff Johns |
| | Jimmy Palmiotti |
| | Trina Robbins |
| | Greg Rucka |
| | Bruce Timm |