Details of DVD What Our Viewers Have to Say
Chapters on the DVD View the Trailer
Quotes from the DVD Editorial Reviews

Now Available! The Alchemy of Art: David Mack DVD (An intimate look at the visionary writer and artist of Kabuki and Daredevil)
"The most intimate and extensive interviews and exploration of my work so far. There is a lot of stuff on this DVD I've never shown before." -- David Mack
Edition:

List: $24.95

Order Now
We accept PayPal, Check, or Money Order
| | |
| --- | --- |
| How did you hear about this DVD? | |
| Additional Details | |
If you do not have access to PayPal, you can send check or money order for $24.95 ea. + S&H (see table below) and your shipping address to:
Hero Video Productions™

PO Box 309

Hewitt, TX 76643
Note: TX residents add 8 1/4% sales tax. Checks must clear your financial institution prior to processing your order.
| | |
| --- | --- |
| $0.01 - $29.99 USD | |
| $30.00 - $49.99 USD | |
| $50.00 - $74.99 USD | |
| $75.00 - $99.99 USD | |
| $100.00 USD - | |
International S&H rates will vary. We'll be happy to provide you an estimated shipping cost.
*United Kingdom & Canada, S&H is $4.95 for the first DVD, and $2.95 for each additional DVD.
Additional Services (price varies, please contact us):
| | |
| --- | --- |
| | Gift Wrap / Gift Card |
| | Express Delivery |
| | Ship to Alternate Address |

Details

Chapters on the DVD
| | |
| --- | --- |
| | The Alchemy of Art: David Mack (1 hr 11 min) |
Beginnings and Endings

Inspiration

Putting it Together

What's My Book?

Crossover

Without Fear

Working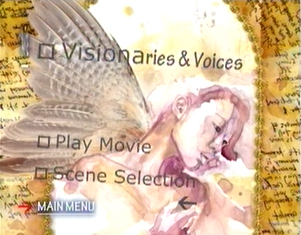 Quotes from The Alchemy of Art: David Mack
| | |
| --- | --- |
| | I hate to make a comparison, but really he's the closest thing comics has to Picasso in that he's prolific, he paints from the heart, and his paintings are very passionate, very distinctive. When you see a David Mack, you know it's a David Mack right off the bat. Terry Moore |
| | My way has always been just to do it first, and after it's done, it finds a place to the readers. It's better than talking to someone ahead of time and asking them to tell me how to do it, because then you are just going to get what they are asking you to do. I'd rather just do it my own way first. David Mack |
| | He just can't contain this stuff, it just pours out of him. I've never known a guy to do such gorgeous work and so much of it. Terry Moore |
| | Comics are such as great medium to just let the emotional content shine through with the artwork. Sometimes you can be very detailed oriented and more literal with it, and sometimes you can just let it do its own thing. David Mack |
| | The Kabuki books that have came out over the years are beautifully drawn, they are great complex stories, and the more I've learned about David, the more I realized he was researching all of this; he has been to Japan a bunch, it was really impressive. He's a unique guy, very physical, very passionate. Terry Moore |
| | I've never formally drawn a distinction between ending being a kid and being an adult, which is one of the fun things about doing what I do…it's like a part of me never has to put on the brakes and stop thinking whimsically. David Mack |
| | Sometimes your ideas and your instincts are smarter than you are. You just have to realize that. David Mack |

Trivia
| | |
| --- | --- |
| | KABUKI has earned David international acclaim for its innovative storytelling, painting techniques and page design. The series is available in seven languages and there are over one million copies of Kabuki comics, paperbacks and hard covers in print in the United States alone. David is the creator, and author and artist of Kabuki. |
| | David is the writer and cover artist for Marvel Comics' Daredevil, one of the ten best-selling comics in the United States. |
| | Mack has designed toys and packaging for companies in Hong Kong, created ad campaigns for Sakura art materials and illustrated Jazz and Rock albums for Japanese and American labels and musicians such as Paul McCartney. |
| | Mack's work has garnered nominations for two 1999 International Eagle Awards in the categories of Favorite Comic Artist (Painted), and Best Cover Art of the Year (Painted), the Eisner Awards in the category of Best Painter, and both the Harvey and Kirby awards in the category of Best New Talent, as well as other awards and nominations. |
| | He was the first American to be nominated for Germany's most prestigious Max-Und-Moritz award in the category of best-imported comic. |
| | Did you know that David was a comic book character named Detective David Mack in the "Powers" comic book? |
| | Did you know that David as a comic book character sat next to his own character Kabuki on an airplane and made light conversation with her? |

Editorial Reviews
The acclaimed team at Hero Video Productions presents the first glimpse of their latest documentary "The Alchemy of Art: David Mack" in comic book shops worldwide. Called "One of the true geniuses of the medium" by Entertainment Weekly, Mack's work expands the possibilities of graphic novels and other fields he explores. David is the creator, author and artist of KABUKI and was also the writer and artist of Daredevil (one of the top ten best selling comics in the United States) from Marvel Comics. David says "This is the most intimate and extensive interview and exploration of my work so far. There is a lot of stuff on this DVD I've never shown before."
Produced by Hero Video Productions' award-winning staff, "The Alchemy of Art: David Mack" is the latest in a series of DVDs produced by Hero Video examining the comic book industry. Fans can find "The Alchemy of Art: David Mack" at their local comics shop. The award-winning, best selling "Terry Moore: Paradise Found" and "Telling Stories: The Comic Book Creators" – featuring Geoff Johns, Bruce Timm, Greg Rucka, Jimmy Palmiotti, Howard Chaykin and other greats - are also being made available again to comic book retailers.
The Comic Reel, Comic Book Resources, May 2007
"'The Alchemy of Art: David Mack' won a Platinum Remi (top award) in the Independent Video category at the Worldfest film festival. This is the 40th year for the festival. Worldfest gave out the first awards to Spielberg, Lucas, the Coen brothers, And Lee and a host of others."
Reviews, DVD Verdict, March 2007

"

An interesting and entertaining documentary that will be of interest to fans of comic book art, or art in general."

"Whether it's his art or his childhood or his favorite comics, he has a lot to say. The guy comes across in this documentary as a walking whirlwind of energy. Whether he's painting, meeting fans at a convention, or just sitting and chatting, he's always "on," and his constant enthusiasm is apparent on screen."

Reviews, Jazma Online, February 2007

"To describe David Mack's artwork, is understanding the concept of 'connecting the dots', you will understand that concept when you purchase this DVD! Yep, you learn some fun stuff with this DVD!"

"The Alchemy of Art: David Mack DVD is the definitive reference for art lovers of any level of knowledge and understanding! It's looking into the mind of a master!"

Reviews, DVD Talk, January 2007
"Recommended. Whether you're a comic book enthusiast or just someone who is interested in the artistic mind, The Alchemy of Art: David Mack has much to teach you. Prior knowledge of the artist's work is not required, as the film will fully educate you to the man's singular vision. You will most likely walk away a fan, and once you see Mack's approach to painting and life in general, you may just be inspired to try to apply his philosophy to your own endeavors, be they in art or just in getting through the day. This DVD gets added points for some excellent bonus features that not only shed more light on David Mack's work, but stay in the spirit of his own creative process."

"The movie is nicely done and very effective as a portrait of an artistic mind. Even if you've never encountered David Mack's work before, you will walk away from watching The Alchemy of Art with a clear sense of what his vision is, and you'll probably be intrigued to see more."

"It's a rare glimpse into one man's creative life, and Mack's drive should be inspiring for anyone who is aspiring to create their own art, or even anyone who already is."

Podcast #364, Fanboy Radio, January 2007
DVD Buzz, Wizard Magazine, January 2007
"Writer/artist David Mack slides into the spotlight with this in-depth documentary exploring his career as one of the most visionary creative minds in graphic storytelling. Focusing on a wide-ranging, extensive Q&A with the creator inside his studio as well as looks at his rare works and some never-before-seen original art, it's an extraordinary look inside the life of a true artistic genius."
Hewitt residents turn love of comics into DVD documentaries, Waco Tribune Herald, December 2006
Pipeline, Comic Book Resources, October 2006
Jamie Tarquini talked about The Alchemy of Art: David Mack DVD during The Pipeline Podcast Previews episode (4m:39s - 6.41 mb).
Show and Tell, Baker's Dozen, September 2006

Screenings
| | |
| --- | --- |
| | Atlanta Comics Expo, April 21-22, 2007 |
| | Pittsburgh Comicon, Saturday, April 28, 2007, 3 p.m. in the Butler Room |
| | Gulf Coast Film and Video Film Festival, Saturday, September 15, 2007, 4:05 pm in the state-of-the-art Proscenium Theater on the San Jacinto College South campus in the new Flickinger Fine Arts Building. |

Customer Reviews
| | |
| --- | --- |
| | I wish every one of my favorite creators could receive the treatment given to David by Hero Productions. A 2+ hour documentary, as in-depth and involving as anything I've ever seen including readings of Shy Creatures by David, and a page-by-page look at an issue of Kabuki: The Alchemy. Have watched it 3 times and even my parents enjoyed it greatly! This DVD is absolutely worth owning. It flew by in a blink & I shall be watching it again. -- T., Missoula, MT |
| | I will definitely let people know how good your David Mack Documentary is! -- Steve, Burbank, CA |
| | People, buy this DVD! The producers of this did an incredible job of getting out of the way letting the focus rest solely on Mack and the art... and that art is obviously some of the best in the business. Honestly, comics needs more products showcasing true talents in the industry like David and one of the ways to ensure it continues is to support the people trying to make them. Buy it. Buy it. Buy it! -- Jonathan H. |
| | Oh wow, man. If you haven't (GET IT!!) This was an amazing DVD. I really appreciated David sharing so much of his personal life and a peek into how he creates such beautiful work. -- Frank, Houston, TX |
| | If you create, if you have aspirations to create, if you know someone that creates, if you love comics, if you enjoy Kabuki or DD, or any other title MACK has contributed to, then you must GET THIS DVD. It is refreshing to see that the person is as every bit as true as their expression suggests. Inspiring. GET THIS DVD. -- Anonymous |
| | Send us your comments review@herovideoproductions.com |

Visit David's official web site